Welcome to FASE, the first European Association of Forensic Anthropology
Since 2003 FASE, a subsection of the International Academy of Legal Medicine, has grown tremendously in the international scenario of forensic anthropology and forensic sciences in general, promoting training, scientific meetings, research and, in the past two years, certification in FA.
The current political and social scenarios present new challenges to forensic anthropology: and FASE as one of the leading forensic anthropology societies in Europe will have to deal with these issues and promote novel solutions which come from the discipline of anthropology. Among others, the increasing number of unidentified dead in the Mediterranean is demanding new identification strategies and anthropology is becoming more and more a fundamental identifying discipline and we will need to work towards conceiving more powerful identification strategies in anthropology and devising algorithms by which to combine anthropology with non-anthropological biological data which will fulfill judicial standards.
Eric Baccino and Eugenia Cunha are a hard act to follow as FASE Presidents –
I will however try to do my best to keep up the excellent work. So let's roll up our sleeves and further cultivate and introduce forensic anthropology as a fundamental tool in the detection and prevention of crime as well as in the enforcement of human rights. I have no doubt that FASE in the next few years will promote all such challenging issues.
Professor Cristina Cattaneo, President of FASE
FASE events in 2021:
https://faseadvancedcourse.org/en/#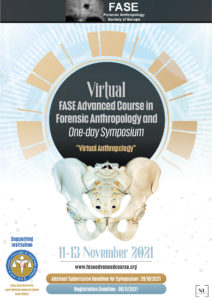 FASE Activities
FASE Certification
Information about two levels of certification, application and procedure
FASE Symposium
The annual international conference provides opportunity to share the research in the form of a poster or presentation.