Marseille 2018
Milan 2017
Coimbra 2016
Montepellier 2015
Zagreb 2014
Heidelberg 2013
Istanbul 2012
Madeira 2011
Marseille 2018
FASE Basic course 2018 in Marseille, France
In the continuity of what had been done by FASE during many years, and in the direct line of the previous basic event in Coimbra (Portugal) in 2016, the Forensic Anthropology Team from Marseille had the pleasure to organize the 2018 FASE Basic Course in FA. This scientific event aimed at allowing every participant to learn what is within the scope of forensic anthropology, to clearly identify the objectives and constraints of this discipline and learn – or improve their skills – to use the basic tools needed for proper forensic analysis. Since it was a "Basic Course", no particular professional profile was expected and the participants represented an array of professions including medical doctors and forensic pathologists, bioarchaeologists, lawyers, human rights specialists, radiologists, forensic anthropologists andmstudents of related sciences. During five days, they had the opportunity to listen to renown forensic anthropology specialists such as Pascal Adalian, Eric Baccino, Cristina Cattaneo, Eugénia Cunha, Elena Kranioti, Philippe Lefevre, Laurent Martrille, Zuzana Obertova, Anja Petaros, Ann Ross, Douglas Ubelaker and Emeline Verna.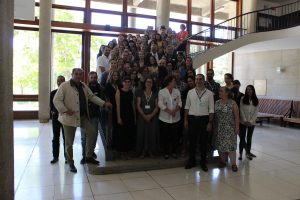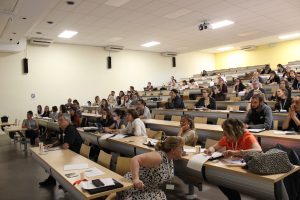 After remembering what Forensic Anthropology is and how to identify human bone (Zuzana Obertova), the different lectures concerned: human osteology (Philippe Lefevre) and its non-pathological variants(Emeline Verna), the assessment of a minimum number of individuals found in a skeletal assemblage (Pascal Adalian), the way to establish a biological profile through age estimation for both living (Laurent Martrille) and dead juveniles (Louise Corron and Pascal Adalian) or adults (Eric Baccino), stature estimation (Zuzana Obertova) and sex assessment (Elena Kranioti), methods of identification (Zuzana Obertova), Pathology (Eugénia Cunha), Taphonomy (Anja Petaros) and the estimation of a post-mortem interval (Douglas Ubelaker). Finally, we discussed about the future of the discipline (Eugenia Cunha).
Since our event was hosted by the Medicine Faculty of Marseille (Aix-Marseille University, France), and to the extent that forensic anthropology is an applied science, every afternoon was dedicated to parallel training sessions in two historic anatomy amphitheatres. More than sixty skeletons from the UMR 7268 ADES Osteotheca (see previous issue of the FASE Newsletter) were studied by the participants, under the supervision of FASE Board members assisted by several PhD students from Marseille (Mélanie Henriques, Frédérique Lagacé, Clémence Mopin, Mélissa Niel, Marie Perrin). Saturday was dedicated to a one-day Symposium counting more than 90 participants, where many scientific communications (20 oral communications and 17 posters) allowed us to discuss the current state of research in the discipline.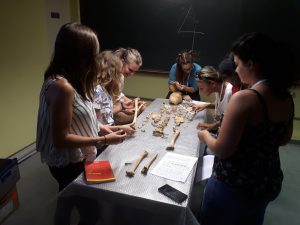 FASE WORKSHOP IN NUMBERS:
53 participants from 13 countries (Belgium, Croatia, Estonia, France, Germany, Italy, Philippines, Portugal, Romania, Slovenia, Sweden, Turkey, United Kingdom). 8 board members teaching from 7 countries (Belgium, France, Greece, Portugal, USA, Sweden, Switzerland) 6 guest lecturers (3 from USA, 2 from France and 1from Switzerland)
FASE ONE DAY SYMPOSIUM IN NUMBERS:
92 participants from 15 countries
20 oral communications
17 posters
Milan 2017
Coimbra 2016
Montepellier 2015
Zagreb 2014
Heidelberg 2013
Istanbul 2012
Madeira 2011